Our childcare services place parents and families at the core of the quality service we provide.  Parents/ guardians are the primary educators and caregivers for their children, and our service reflects that.
We provide an environment that will enable each child to develop to their own best potential.  Staff are encouraged to recognise the individual development stages of each child.  The environment will be prepared and equipment provided to stimulate children at each stage of their development
We warmly welcome discussion with you on your child's activities and how he/she is progressing.  We strive to facilitate your child's learning and development in partnership with you.
Meet the team
Susan McLoughlin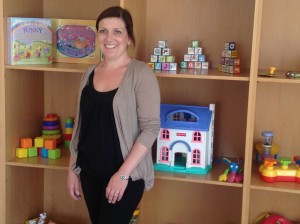 I have worked in childcare for the last ten years which including time spent as a nanny and in crèches in Dublin and Carlow.  More recently I spent seven years in my last role, before making the move to open my own crèche.  I have worked with all age groups from babies to 12 year old children.  As with all the staff at Little Stars I have had full Garda vetting.
Nicola Reddy

Nicola has twelve years childcare experience, working with children from 3 months old to 14 years.  Nicola has also had full Garda vetting, her qualifications include: