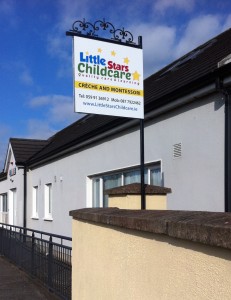 At Little Stars Childcare we are in the privileged position of sharing the care of your children with you.  We provide high quality, flexible, affordable childcare that meets your needs and those of your children.  Our purpose built crèche & montessori is bright  and spacious  providing the perfect environment for your little stars.
From 3 months old to after school children, we make the individual and developmental needs of each and every child attending the crèche our first priority.
We provide high quality child centered care which will extend and enrich your child's development and learning, stimulate their curiosity, encourage independence and promote a sense of belonging.
We offer a complimentary settling in period  and cater for ECCE, CETS 1 & 2.  We are open Monday to Friday from 7.30 am to 6.15 pm.